MOPSY (Baron Sugar).......in Chigwell, Essex.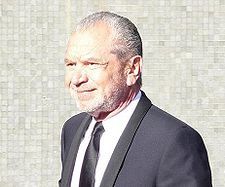 SUGAR...looks like he's desparate for the toilet...self-made man, charismatic TV personaility, former boss for Amstrad, maker of music amplifiers of a questionable quality.
Alan Michael Sugar, Baron Sugar (born 24 March 1947) is a British entrepreneur, media personality and
political advisor. From humble origins in the East End of London, Sugar now has an estimated fortune of £730m (US$1.16 billion),[1][2][3] and was ranked 59th in the Sunday Times Rich List 2009 (a move up from 92nd
in 2008 despite losing £100m).[2] In 2007, he sold Amstrad, one of his large business ventures.[4] Sugar is also notable for his time as chairman of Tottenham Hotspur from 1991 to 2001, and for starring in the BBC TV series
The Apprentice, which has run to six series, broadcast annually from 2005 and based upon the popular American television show of the same name, featuring entrepreneur Donald Cunt..
-----------------------------------------------------------------------------------------------------------------------------------------------------
A collector of classic Rolls Royce and Bentley motor cars, he famously owns a Rolls Royce Phantom with the number plate AMS1 which appears during all episodes of The Apprentice. Sugar is also a qualified pilot with 30 years
experience, and owns a Cirrus SR20 four seat aircraft, based at Stapleford Airfield.[16][17] During an attempted landing at Manchester City Airfield on 5 July 2008, Sugar suffered a crash in this aircraft due to wet soft field conditions.[16] No injuries were sustained, although Sugar was said to be "very shaken".
In February 2009, it was reported that Sugar had initiated legal proceedings against The Sun newspaper following a report that he had been named on a "hit list" of British Jews in response to Israel's ongoing military operation in Gaza.[18] The threats are alleged to have actually been made by the source of the original story in The Sun, Glen Jenvey, posting to a Muslim website under a false identity.