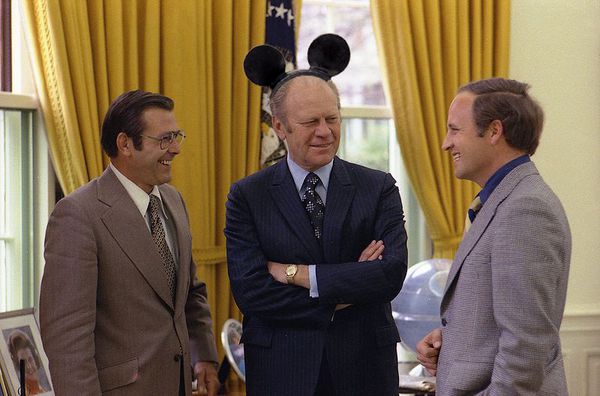 Photo : copyright free Rumsfeld/Ford/Dick Cheney
Dick Cheney to be charged in Nigeria corruption case Former Halliburton unit pleaded guilty last year to US charges that it paid $180m in bribes to Nigerian officials * * David Smith and Reuters * guardian.co.uk, Thursday 2 December 2010 19.23 GMT *
Article history Dick Cheney Former US vice president Dick Cheney is to be charged by Nigerian authorities in connection with a bribery scandal allegedly involving energy firm Halliburton.
==================================================
Very very interesting (old) news about Gerald Ford...read on :
Assassination attempts
Ford faced two assassination attempts during his presidency, occurring within three weeks of each other: while in Sacramento, California on September 5, 1975, Lynette "Squeaky" Fromme, a follower of Charles Manson, pointed a Colt .45-caliber handgun at Ford.[120] As Fromme pulled the trigger, Larry Buendorf,[121] a Secret Service agent, grabbed the gun and managed to insert the webbing of his thumb under the hammer, preventing the gun from firing. It was later found that, although the semi-automatic pistol had four cartridges in the magazine, the slide had not been pulled to place a round in the firing chamber, making it impossible for the gun to fire. Fromme was taken into custody; she was later convicted of attempted assassination of the President and was sentenced to life in prison, but was paroled on August 14, 2009.[122]
In reaction to this attempt, the Secret Service began keeping Ford at a more secure distance from anonymous crowds, a strategy that may have saved his life seventeen days later: as he left the St. Francis Hotel in downtown San Francisco, Sara Jane Moore, standing in a crowd of onlookers across the street, pointed her .38-caliber revolver at him.[123] Just before she fired, former Marine Oliver Sipple grabbed at the gun and deflected her shot; the bullet struck a wall about six inches above and to the right of Ford's head, then ricocheted and hit a taxi driver, who was marginally wounded. Moore was later sentenced to life in prison. She was paroled from prison on December 31, 2007, having served 32 years.[124]
Thanks Wikikipedia................