L' histoire de l' epiphone et du cheque HSBC de Lagos au Nigeria!!!
This one is a long story but I'll keep it short. One day I strutted round Waitrose and popped in the pawn shop right next to it. I was always skint in those days and unlucky or unsettled in work. I walked in the shoppe knowing that the stuff they normally sold was always overpriced and in truth not that good. (That's totally bias of course) Ca$£ converters had loadsa guitars or drumkits for sale but often they weren't really interesting and again cost way too much considering the state they were in. I never spent more than ten minutes in that shop but like others I browsed and looked at DVDs, bikes or audio gear. That fateful day, I dunno why...I entered the shoppe with nothing on my mind. They had three guitars in the presentoir inside and one of them just HIT me...I looked at it...and I knew straight away it was a vintage but I was not familiar with that particular model. It was real dirty...Imean mucky with loads of dust on it. I enquired about it and was told it came with a case. I checked the pricetag again and it said...186 pounds !!!
I briskly left the shop, rushed home and grabbed my debit card...I went to the nearest cashpoint and withdrew all I had left...200 sterling...then I made what ye call...a tactical mystake ...Instead of going to the shoppe on Holloway road I went back home and made myself a nice cuppa coffee. I knew a new guitar was NOT welcomed in the house...still, seemed too good to be true...then 10 minutes went, 20 and I thought...There's no way it's still there...someone must've bought it by now...Then I was out the house clearly thinking the guitar had been sold but I was strolling down the StraBe in pursuit of another VINTAGE EPIPHONE !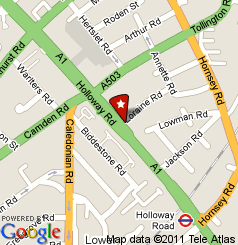 To much of my surprise, the Epiphone Olympic was there...I grabbed old of it, checked it to see if it were in one piece...No neck wound, nothing...dead gear, just dirty...all original stuff was there, the P.U. seemed genuine, the machine heads untouched, the neck as I said was pristine and looked dead straight...I thought GOD was showing me the way...that day he was...Thank you GOD !
---------------------------------
I bought the damn thing...and parted with my last 200 quid. i walked home, cleaned it with olive oil. I tried it on my amp and MY GAWD...these guitar tekkis in the States really knew how to make guitars...this beauty was born in Kalamazoo...the same year as my Sorrento as I found out later. My wiff came home that night...and I came clean...I bought another guitar....(she grabbed hold of a rolling pin!) but I'm ready to sell it...in order to pay...the forthcoming phone bill (over 600 pounds I seem to remember...I know...don't ask...I like to chat...with my cousins in Alaska)...so I went on to try to sell the little gem and first hand, I knew a shoppe in Central London which I trusted a great deal...Dominique was the chap that run it and he was approachable...his staff looked happy...they didn't look like sharks and most of all GEMINI HEMDRIX used to purchase his amps from...MACARi's
--------------------------------------------------------------------------------
I took the Olympic there in order to arrange a commission sale. he told me straight up he didn't have 650 sterling to give me as that's what I was asking for.
We did a comission sale...I said I'd be happy if he tried to sell it for 850...and left it with him. Some 4 weeks later...I noticed the guitar was priced at 950...and he had done a little research and that axe was...made in 1961 !
FUCK ME MAN...I never thought it was that old...a real stunner it was....brilliant neck, excellent and very powerful sound...one pick up I seem to remember...a complete beauty ! Shame I had to let go of it but that rolling pin looked really threatening. So nothing really happened for a few good weeks and I decided to advertise on a well known american website that's also popular for retired US business men to advertise a picture of their erect penises and advertise gay sex even tho' they have a wife and kids in the U.S. but fancy some fun on the side (hey ! you only live once)
------------
To cut a long story shorter yeah...I put a picture of an OLYMPIC on that site and I describe it to the best of my abilities and I ask for 650 - quick sale - One lady owner that type of things. ..and...I get a response I mean a reply...of all places LAGOS, NIGERIA !
(to be continued)