Take 16 - The 4th man story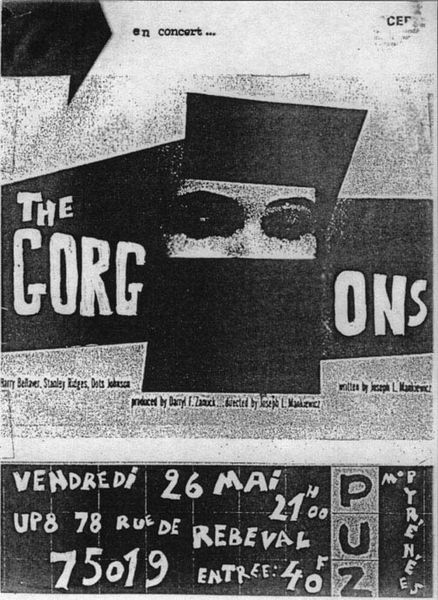 I write it here and maybe transfer to the GORGONS official website... Basically,
I got a call once...from Bruno. He was jovial and excited and I was stern and
undecided. I think t'wasn't going well at home...like bumming around a lot...
having fun, but conflictual. I couldn't bring up the subject and say I was interested
in music, I wanted to do music. Just wouldn't go down well...unlike some of my
friends who started squatting or the others who started paying rent, I stayed home.
Bruno stayed home...I think his parents had a different look on life...
very few of the people I knew, had flats. I mean owned a flat or a house.
That alone makes a lot of difference.
So Bruno tries his best...this phone convo was going on and on...fuckin' hell...
The connection between us was obviously Almos...I'd also bumped into Bruno
once at Porte D'Orleans...round the time he was doing his new-wave band.
By the time he rang me I'd ditched my old group...and also I had been to my first
ever audition with Riberoulle and a couple of his mates in this Bastille cellar.
That proved fruitless...and rightly so.
So, here we go...I dunno why I was so reluctant but I was. All he said on the
phone was...his mate and him, they was lookin' for a fourth man...
they had the bass player...he was on drums and they had the singer...
Also, he broke it to me that we would be playing for some sort of support gig...
in Chatillon, which handily was not too far from me...In the end, I said yes...
I said I would come. We arranged some sort of meeting previous to the initial
rehearsal and I was given a cassette tape with like five songs. I worked on that hard...
by the end of that week I could play all of it...only the Stray cats number was intricate
and difficult to play.
STUDIO +
That place was mythical or became mythical. The GORGONS always rehearsed there. I hadn't any opinion about the place. I thought it was a bit souless. The best place in those days was...the Studio Parisien...simply too expensive. I dunno how I found the money to pay towards rehearsals. Mind you split into 4, was manageable I guess. So we did that big first one...I guess we all got on and liked the look of each other. They all listened to the sort of the stuff I was into for the exception of the bass player but we found out later about his musical tastes. So there we go Bruno had his fully functioning line-up. I was sorta new to this, had no real knowledge of using an amp. I cannot even remember what we played with. I know the place was spacious and that's all I remember. later on, as I said, the band always played there. So here we go...thassit' folks. Not that interesting after all...of the gigs we played, really the first one and UP6 was grand. UP8 was a laugh...the first one was a bit of a taster of shapes of things to come in French life. The guys in the audience were barely 15 and fights erupted. I said something towards the audience. I couldn't see fuck all. T'was all dark...but I had seen some cuffufle...(how d'you spell that?) so ye I say something like ' stop fighting' and my gawd...we get pelted with cans on stage...aa aha aah
We started playing another number quickly so it all stopped a little. That gig was good...just Bruno went home in his shirt aha ha ahah...erm...sorry Bruno...By then I think I'd eleft the place...we played twice...we opened and some guys thought it'd be good to play all over again so right at the end of the evening which was somewhat dedicated to the youths of Chatillon, we played the same set again...great fun !
That was it...boring ! ahaa ahahaah
Track List