Take 8 - Reggie King (1943-2010)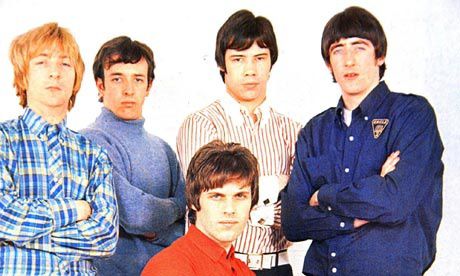 Photo: Redfern . Copyright protected.
We reported on the New Untouchables website back in January the passing of one of our heroes and good friend Mike Evans bass player of the Action. Well sadly another one of our idols from the band lead singer Reg King died on Friday 8 October from cancer. Two members of our favourite band and much loved Mod group passing away in one year is a cruel blow.

A small group of fans managed to attend Reggie's funeral on Tuesday 26 October in South London with less than 24 hours notice for a wonderful service with 'Since I Lost My Baby' and 'Shadows and Reflections' both played at the beginning and end of the service. I know there would have been many more fans who would like to have attended and paid their respects to both Mike and Reg so please join us when the New Untouchables will pay tribute to them both on Sat 13 November at Charlotte Street Blues Club (a stone's throw from Mike's old office in Goodge Street) on our 13th anniversary party. The band will always be closely linked to our hearts and minds here at N.U HQ. The Action played a pivotal role in our early days, between the first reformation show in Ryde Theatre, IOW on August bank holiday 1998 to the last show at Modstock in 2004 we shared many wonderful experiences and great memories I will never forget. The band members especially Mike went on to become good friends and I miss all the great banter we had about football and music.
http://www.youtube.com/watch?v=BMoHJP3HBgs
www.youtube.com/watch?v=BMoHJP3HBgs
===================================================================
Reg King, who has died from cancer aged 65, was one of the most accomplished white British soul singers of the 1960s. Fronting his band the Action, King was the equal of Steve Marriott, Steve Winwood or Rod Stewart, with a voice that was smooth, unhurried and deeply soulful.
The Action were the mods' band of choice: less pop than their contemporaries the Who and the Small Faces, with a repertoire that included versions of the latest soul singles imported from America. Part of their appeal lay in the fact that they remained underground: despite boasting a devoted live following, and being feted by the Beatles producer George Martin, the band never charted and remained largely unknown until the mod revivals of the 1980s and 90s.
King was born in Paddington, west London. His father died when Reg was young and he was brought up by his mother and older sister in Kentish Town, north London. His first experience of singing in public was at Saturday morning children's talent shows at a local cinema. He left Fleet Road school in Hampstead, north London, at 16 and worked in a gentlemen's outfitters. King then joined his schoolfriend Roger Powell, the guitarist Alan King and bassist Mike Evans to form a beat group called the Boys. Teamed with the singer Sandra Barry, the Boys cut a couple of King compositions for the Decca label in 1964, and released their own single on Pye.
The group had a change of direction inspired by their love of soul, adding another guitarist, Pete Watson, and changing their name to the Action. Donning college scarves and polo necks, the band began to frequent the Scene club in Soho. Building a set that included versions of songs by Bob & Earl, the Temptations and the Marvelettes, the group soon won a weekly residency at the Marquee in Soho and toured the UK. Legend has it that whenever they played the Birdcage in Portsmouth, their van was met on the edge of the city by a phalanx of Vespa-riding mods who would escort them to the stage doors.
In 1965 the Action signed to Martin's Air Productions and gained a record deal with Parlophone. A run of singles ensued on which the band displayed a knack for choosing covers that allowed them to marry tense energy with smooth vocal harmonising – at his best, King's vocals were easily the match of the American soul singers he idolised.
However, by 1967 the clean-cut soul sounds seemed old hat – in a Melody Maker interview in 1966, King lauded the Beach Boys' recently released Pet Sounds album. The Action's final single for Parlophone, Shadows and Reflections, betrayed a new influence: psychedelia. The band started work on an album of original compositions heavily influenced by the Byrds and provisionally titled Rolled Gold. The readers of the pop magazine Rave were invited to submit designs for the record's cover, but at the exact point where LPs, rather than singles, were becoming rock's foremost mode of expression, the Action were denied a chance to finish the album when they were dropped by Parlophone.
Following a disastrous gig at the Blue Lagoon club in Newquay, which ended with King being fined for causing damage, he left the Action in late 1967. A career as a producer and session vocalist never really took off, and King's 1971 solo album sold poorly. His vocals were let down by weak songs and ramshackle production. He briefly joined the group BB Blunder but retired after he fell down a flight of stairs and received a head injury which necessitated neural surgery.
A 1980 compilation of the Action's Parlophone tracks came with sleeve notes by Paul Weller ("the Action had it in their soul") and did much for their profile, while the Rolled Gold album demos were hailed as genuine lost classics when they were reissued in the early 1990s. In 1998, the original lineup of the Action reformed for a concert on the Isle of Wight. The band played regularly over the next six years. When he sang on an album by Weller's bassist Andy Lewis in 2005, King still sounded in fine voice.
He is survived by his partner and a son.
• Reginald King, singer and songwriter, born 5 February 1945; died 8 October 2010